Whether you are traveling to Chicago on business or leisure getting the right transportation is essential for a good trip. Relying on cab services might seem like a good idea, but how reliable are these services? For a business traveler punctuality is of prime importance, especially if you are booking transportation in Chicago for a potential client. If you are new to the area or a first-time visitor, giving directions to your chauffeur isn't always possible. That's why you need Limousine of Chicago, a Chicago limousine service that can address these problems.
Top quality vehicles for your transportation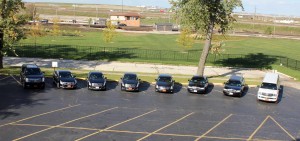 Arrive in style in some of the best quality vehicles in Chicago. All our vehicles are regularly serviced and maintained to provide clients with the best luxury travel experience. Impress a potential client or make a grand entrance to a party or event by booking a top-quality limousine. We can provide the most luxurious vehicles to our clients that no other app-cab service can deliver.
Hassle free travel experience
Finding your app-cab driver in a busy street or at the airport can definitely leave you feeling irritable and jumpy. It can be quite an annoyance when you are already stressed about a big meeting or appointment. When you choose Limousine of Chicago, you can say goodbye to such hassles. Experience the comforts and peace of mind that only a better service can provide. Our chauffeurs will meet you at a predetermined and conspicuous location.
Professionally trained chauffeurs
When you book with a Chicago limousine service you can rest assured that your chauffeurs will be professionally trained. There are thorough background checks conducted before a chauffeur is enlisted to the services. They are trained to be friendly, accommodating to the customers' needs and above all, respect their privacy. We are very stringent in our selection and hiring process for the chauffeurs.
Premium services for discerning customers
Over the years, we at Limousine of Chicago have built a reputation for providing the most deluxe limousine services to our clients. Our fleet of luxury limousines have been equipped with all the requirements for a deluxe transportation experience. Coupled with some of the best chauffeurs in the region we are proud to offer nothing short of the very best transportation in Chicago to discerning customers.
A reliable service for your transportation needs
Whether you want to sightsee or reach a business meeting on time, relying on an app-cab service may not always be the best idea. There is no guarantee that they will show up on time and also there is no real background check done on the chauffeurs. When you book with us, we can guarantee you with not only the very best quality vehicles, but also professionally trained chauffeurs who will make your ride a pleasurable one.
Difference in service that you can see for yourself
The quality and condition of app-cab vehicles is not always up to the mark. Booking such a vehicle for a potential client can lead to quite an embarrassing situation. That is why we offer you better service at a reasonable cost and make your transportation experience a memorable one.