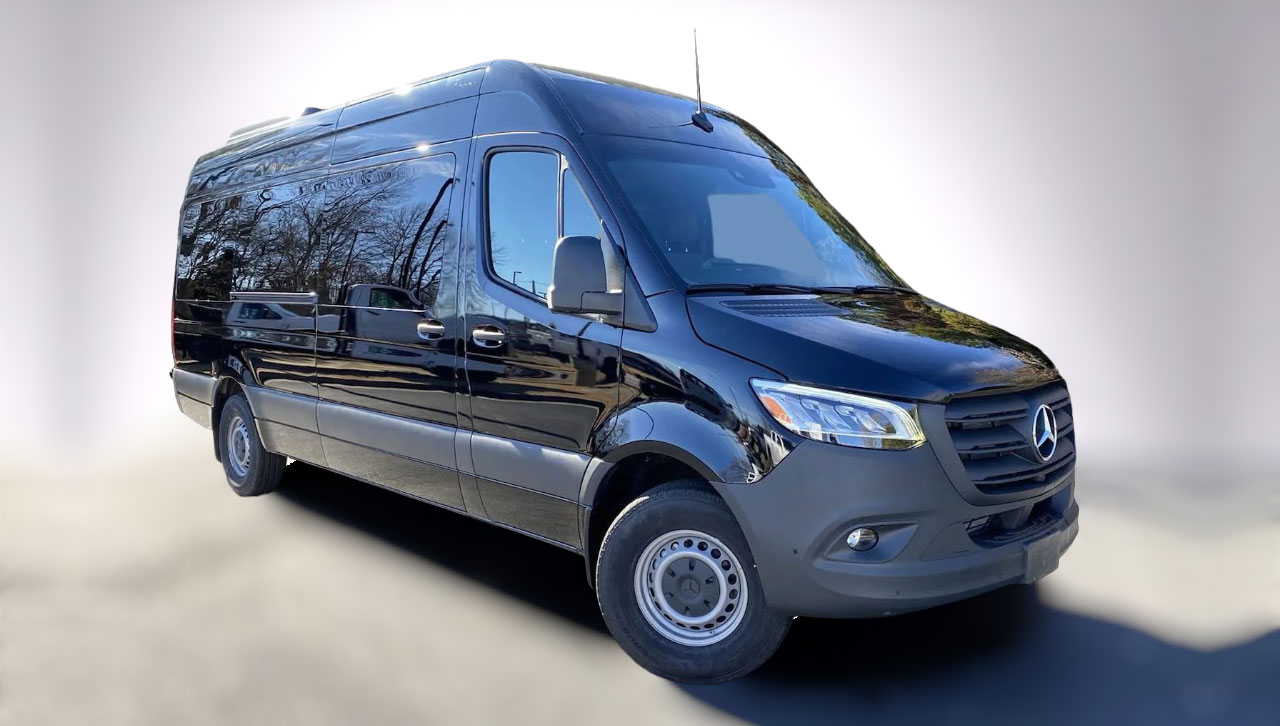 YOUR LUXURY MOBILE HAVEN: THE 14-PASSENGER MERCEDES BENZ SPRINTER VAN
Introducing our 14-passenger Mercedes Benz Sprinter van, the epitome of elegance and comfort for your luxury transportation needs. Whether you're planning a corporate event, a special celebration, or a group outing, this remarkable vehicle will ensure a memorable and sophisticated experience for all passengers.
The Mercedes Benz Sprinter van boasts a sleek and modern design, showcasing the perfect fusion of style and functionality. As you step inside, you'll be greeted by a spacious interior that offers ample room to move around and socialize. The high ceiling allows for a comfortable standing position, making it ideal for mingling and creating a vibrant atmosphere.
Immerse yourself in the luxurious ambiance of our Sprinter van. Plush leather seating provides the utmost comfort, allowing you and your guests to relax and enjoy the journey. The refined interiors are meticulously crafted, exuding a sense of sophistication and class. Indulge in the premium amenities, including a state-of-the-art sound system that delivers crystal-clear audio, ensuring your favorite music sets the perfect mood for the occasion.
No celebration is complete without a toast, and our Sprinter van has you covered. A well-equipped bar area is at your disposal, stocked with a selection of beverages to satisfy every taste. Raise your glasses and create unforgettable memories while sipping on your preferred drinks in the company of your cherished friends or colleagues.
The Sprinter van is versatile and adaptable, catering to a wide range of events and occasions. Whether you're planning a birthday celebration, a bachelor or bachelorette party, or a private tour, this exceptional vehicle will exceed your expectations. Take advantage of its flexibility for point-to-point transportation, ensuring a seamless and stylish journey from one destination to another.
Arriving in style has never been easier with the Mercedes Benz Sprinter van. Imagine the convenience and elegance of arriving at a business meeting or a conference, making a grand entrance that leaves a lasting impression. Your group will relish the comfort and exclusivity of traveling together, fostering a sense of camaraderie and shared experiences.
Safety and privacy are of paramount importance to us. The Sprinter van is equipped with modern security features, ensuring a secure and protected environment throughout your journey. Tinted windows provide privacy, allowing you to enjoy your time onboard without prying eyes.
Experience luxury transportation at its finest with the 14-passenger Mercedes Benz Sprinter van. From its exquisite design and opulent interiors to the top-of-the-line amenities, every detail is carefully curated to provide an exceptional and unforgettable journey. Trust us to elevate your special occasions and create cherished memories that will last a lifetime.
Suggested Uses for the 14-passenger Mercedes Benz Sprinter van
Intimate weddings
Small group outings

Executive transportation
VIP airport transfers
Concert and event transportation
Sightseeing tours
Wine tasting excursions
Prom and formal events

Family gatherings

Weekend getaways
Choose our Mercedes Benz Sprinter van for a luxurious and comfortable ride that will exceed your expectations. Contact us today to reserve this remarkable vehicle for your upcoming event or celebration. Let us take care of your transportation needs while you focus on creating unforgettable moments with your loved ones.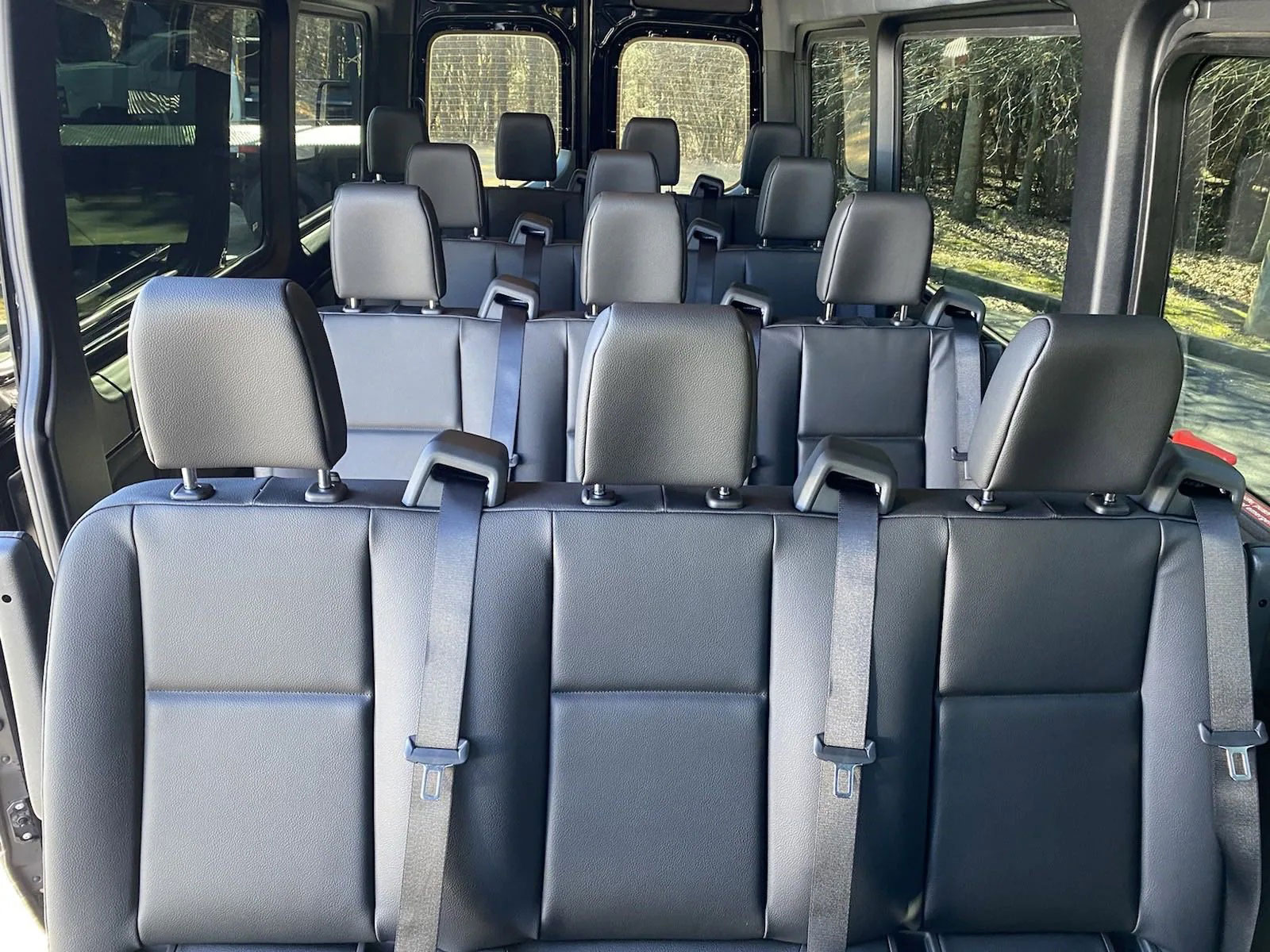 Effortless Airport Transfers with the 14-Passenger Mercedes Benz Sprinter Van
When it comes to airport transportation, convenience, reliability, and comfort are paramount. Our 14-passenger Mercedes Benz Sprinter van is the perfect choice for seamless and luxurious airport pickups and drop-offs at popular destinations like O'Hare and Midway, as well as smaller private airports in the vicinity of Chicago and Milwaukee. Let us handle the logistics while you enjoy a stress-free journey to or from the airport.
Arriving in a new city or departing for your next adventure can be hectic, but with our Sprinter van, you can leave the worries behind. Our professional and experienced chauffeurs will greet you with a warm smile, assisting you with your luggage and ensuring a smooth transition from the airport to your desired destination. Sit back, relax, and let us take care of the rest.
As you step into our luxurious Sprinter van, you'll immediately feel a sense of tranquility and refinement. The spacious and comfortable interior provides ample room for you and your fellow travelers to unwind after a long flight or prepare for the journey ahead. Stretch out your legs, recline in the plush leather seats, and enjoy the serene ambiance as we whisk you away to your destination.
Our Sprinter van is equipped with state-of-the-art navigation systems and real-time traffic monitoring, allowing our skilled drivers to choose the most efficient routes, ensuring you arrive at your destination promptly. You can trust in our commitment to punctuality and professionalism, knowing that we will be there to pick you up or drop you off at the designated time, every time.
We understand the importance of privacy during your airport transfers. The Mercedes Benz Sprinter van offers tinted windows that shield you from prying eyes, allowing you to relax and unwind in a private and secure environment. Catch up on work, make important phone calls, or simply enjoy a moment of solitude as you travel to or from the airport.
In addition to the impeccable comfort and privacy, our Sprinter van is equipped with modern amenities to enhance your journey. Stay connected with complimentary Wi-Fi onboard, ensuring you can tend to any urgent matters or simply stay entertained during the ride. The advanced sound system provides crisp audio quality, allowing you to enjoy your favorite music or podcasts as you cruise along.
Whether you're a business traveler seeking a seamless airport transfer or a leisure traveler in need of a stress-free start or end to your vacation, our 14-passenger Mercedes Benz Sprinter van is the epitome of luxury airport transportation. Experience the sophistication, convenience, and peace of mind that comes with choosing our services for your airport pickups and drop-offs.
Sit back, relax, and allow us to handle the logistics while you savor the pleasure of a comfortable and stylish ride. Contact us today to reserve the 14-passenger Mercedes Benz Sprinter van for your next airport transfer, and let us provide you with a seamless and unforgettable transportation experience.