YOUR MOVING BAR AND DISCO JOINT ALL IN ONE AND ON THE WHEELS
This 30 passenger limo party bus will ensure your next special occasion becomes extraordinary. Wedding in this limo bus? Absolutely! The wonderful dress that was carefully selected and cherished for the long days before the wedding does not have to be wrinkled – your bride can enjoy spacious seating without fearing anyone to step on the dress. A buttoned up groom will be able to move around the bus talking to guests and toasting how lucky he is! You do not have to ride all in different vehicles to the wedding – imagine you riding all together and arriving to every spot without anyone running late! All the guest will be able to enjoy every single moment with bride and groom during the ceremony and the reception, no man is left behind!
Want to start early toasting? No problem! A spacious bar will accommodate that! Play romantic music to make this day special. Would like to show your young pictures off a DVD or a laptop? No problem! The TV located the front of the bus will be able to accommodate this. Your party master can conduct the party using our built-in sound system. And of course, the red carpet is on us! Feel yourself special, enjoy yourself – it's your day! This wedding party bus is the best choice for you.
Suggested use for 30 passenger party bus limousine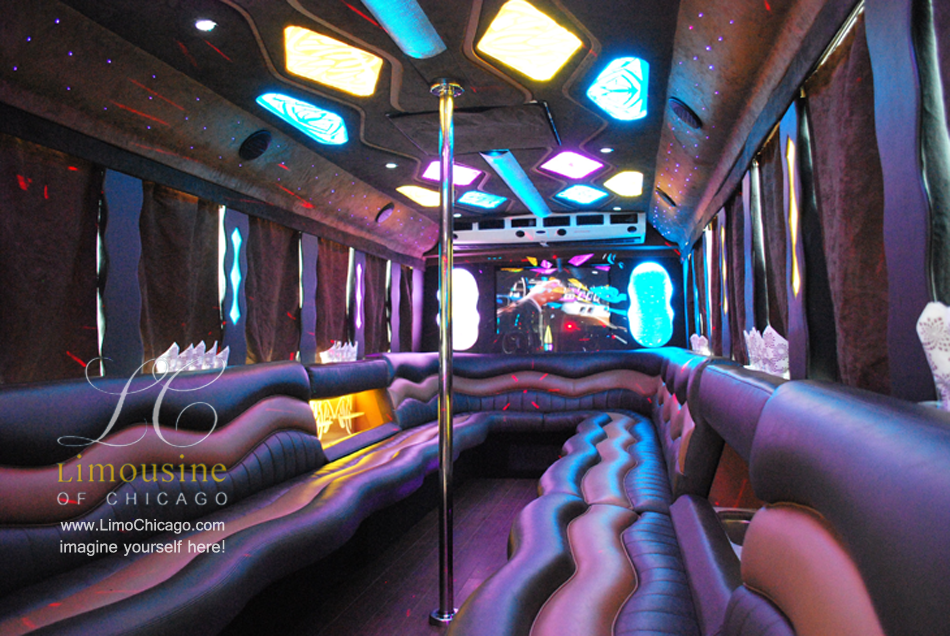 30 PASSENGER LIMO PARTY BUS NIGHT ON TOWN
This limo bus is a perfect solution for your party of 20-30 people. Spacious interior makes it comfortable to move around, you do not have to sit in a not-so-tall stretch limo. the ceiling heights makes it a private bar on the wheels. Get your party started and take it from one place to another. You do not have to wait for fun to start, but you can cruise from town to town, from place to place in our 30 passenger limo bus, pick up friends while having fun! Try doing same thing with the bar!
You do not even have to leave the bus during the party – it's all there – room for your friends, the bar, the quality sound, the dazzling light effects, even the pole, you know 😉 not to fall down provide a wonderful party atmosphere. There's even some room for dancing if you feel like it! Air conditioned in the summer, heated in the winter. Luxurious leather seating DVD/CD combo, plazma TV, this is one ride you won't soon forget. We even have the privacy blinds so that you can screen off the street and enjoy yourselves inside without being looked at from outside.
It is not your common CTA bus, this limo party bus is designed for fun. We do not have boring rows of chairs. Your friends and family will be enjoying comfortable seating around the interior facing each other. Gorgeous bars and counters are made from a dark granite and lots of fiber optic lighting is run around the bar, seats, ceiling. It is cozy and spacious at the same time.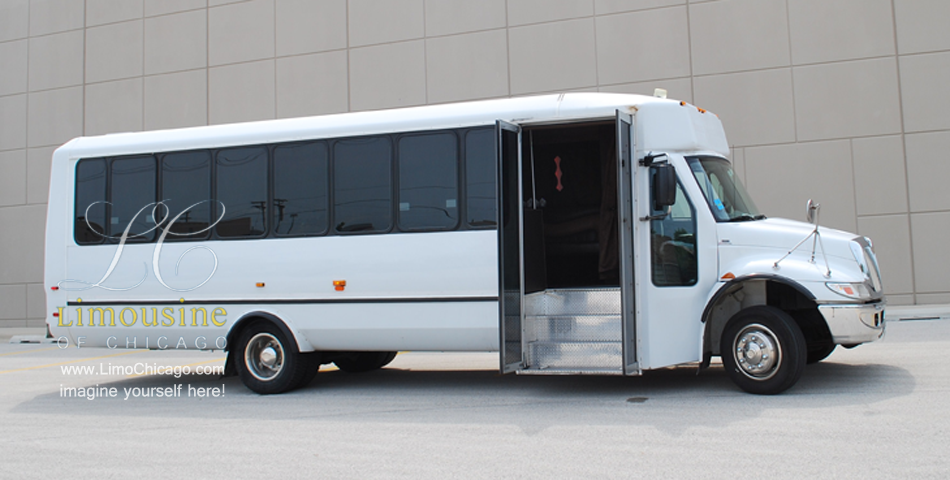 LIMOUSINE PARTY BUS FOR BIRTHDAY CELEBRATION
Having a birthday in a party bus? Bachelor or Bachelorette party in a party bus? Did not get a reservation for Valentine's day or a New Year's? Order this 30 passenger limousine party bus from Limousine of Chicago and it will fit your need. You and your special ones will absolutely love it and this memory will not go away soon! The party does not have to stop when you left your home and heading towards a restaurant/ship/space shuttle or just your suburban friend's party home. Enjoy yourself with our premium sound system, spacious seating, plasma TV, DVD/CD combo. The high power stereo system features 2-12" sub-woofers and 8 speakers, ensuring quality surround sound for your favorite movie on DVD or your favorite album on CD. Comfortable for up to 30 passengers, this bus has 10-foot ceilings, providing for plenty of head and walking room. There is a bar, complete with liquor, Champaign, bottled water, and soft drinks. An onboard lavatory ensures you won't have to disembark!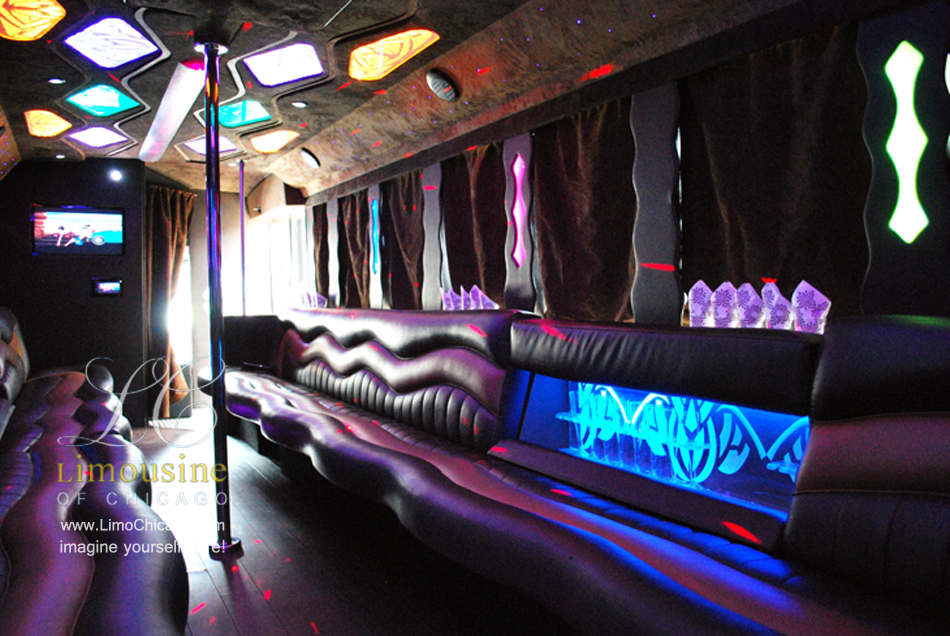 Reserve rates for 30 Passenger Limo Bus
Hours
Sun-Fri
Saturday
3

$585

for 3 hours
+20% gratuity .
approx. $19 per person
with a group of 30

$590

for 3 hours
+20% gratuity.
approx. $19 per person
with a group of 30
4

$780

for 4 hours
+20% gratuity .
approx. $26 per person
with a group of 30

$790

for 4 hours
+20% gratuity.
approx. $26 per person
with a group of 30
5

$875

for 5 hours
+20% gratuity .
approx. $29 per person
with a group of 30

$925

for 5 hours
+20% gratuity.
approx. $30 per person
with a group of 30
6

$990

for 6 hours
+20% gratuity .
approx. $33 per person
with a group of 30

$1090

for 6 hours
+20% gratuity.
approx. $36 per person
with a group of 30