30 Passenger Limo Bus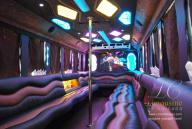 This limo bus is a perfect solution for your party of 20-30 people. Spacious interior makes it comfortable to move around, you do not have to sit in a not-so-tall stretch limo. the ceiling heights makes it a private bar on the wheels. Get your party started and take it from one place to another.
Luggage meet service

Airport luggage meet and greet service ensures that our driver will be waiting for you when you enter the luggage claim on domestic flights or pass customs on international. They are easily spotted as they will be holding our Company name board with your name displayed clearly on it.
(service is optional and requires preliminary arrangement)
Limousine from Midway (mdw) to Owensboro
Limousine of Chicago offers transportation services Owensboro from Midway as well as car service from Owensboro. We provide quality taxi in Owensboro. We provide airport shuttles and ground transportation services for businesses and travelers going to or from Owensboro. We offer competitive rates on sedan, stretch limousine and bus services. We primarily service Chicago OHare International Airport (ORD) and Chicago Midway Airport (MDW).
Secure orders, reservation system
Limousine of Chicago has security measures in place to protect from loss, misuse and alteration of the information under our control. The information you supply to us during online ordering is protected by encryption and is sent to us in a Secure Socket Layer (SSL). We use RapidSSL which is a 256 bit single root SSL certificate signed by Equifax, a true leader in internet security.